TwinView Dock 3
We thought we'd kick things off with the TwinView Dock 3 since it is the most straight-forward accessory of the lot. It is also the most "advanced" one, for lack of a better term, and also the most expensive, retailing at around $300.
We realize that this sort of cash can easily buy you a standalone smartphone. But, again, none of this Asus ROG Phone gear is budget-friendly.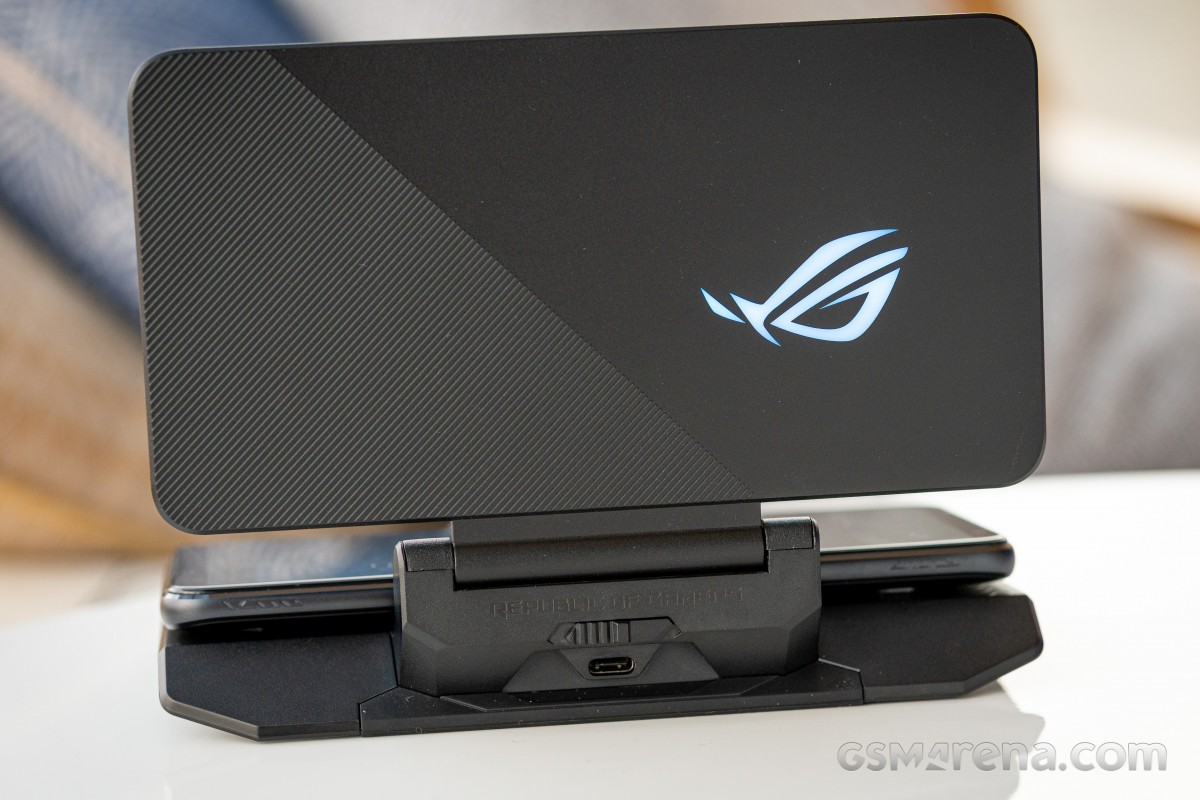 The TwinView Dock 3 is, without a doubt, the most expensive add-on because it features the same screen as the smartphone itself. It is a secondary 6.6-inch display, complete with an active fan solution, a 5000mAh battery, an extra pass-through Type-C port, and an audio jack.
The "straight-forward" bit here stems from the fact that the TwinView Dock 3 is mostly identical to its TwinView Dock II but simply includes a faster 2340 x 1080-pixel, 144Hz OLED display instead of the older 120Hz one. That way, it can match the native refresh rate of the ROG Phone 3's panel.
In contrast, hooking the ROG Phone 3 up to the still compatible TwinView Dock II forces its display down to 120Hz, so that the two match. Hardly a massive practical difference and definitely not one that mandates getting the new dock if you already happen to own the old one. And that's kind of the Asus logic as well.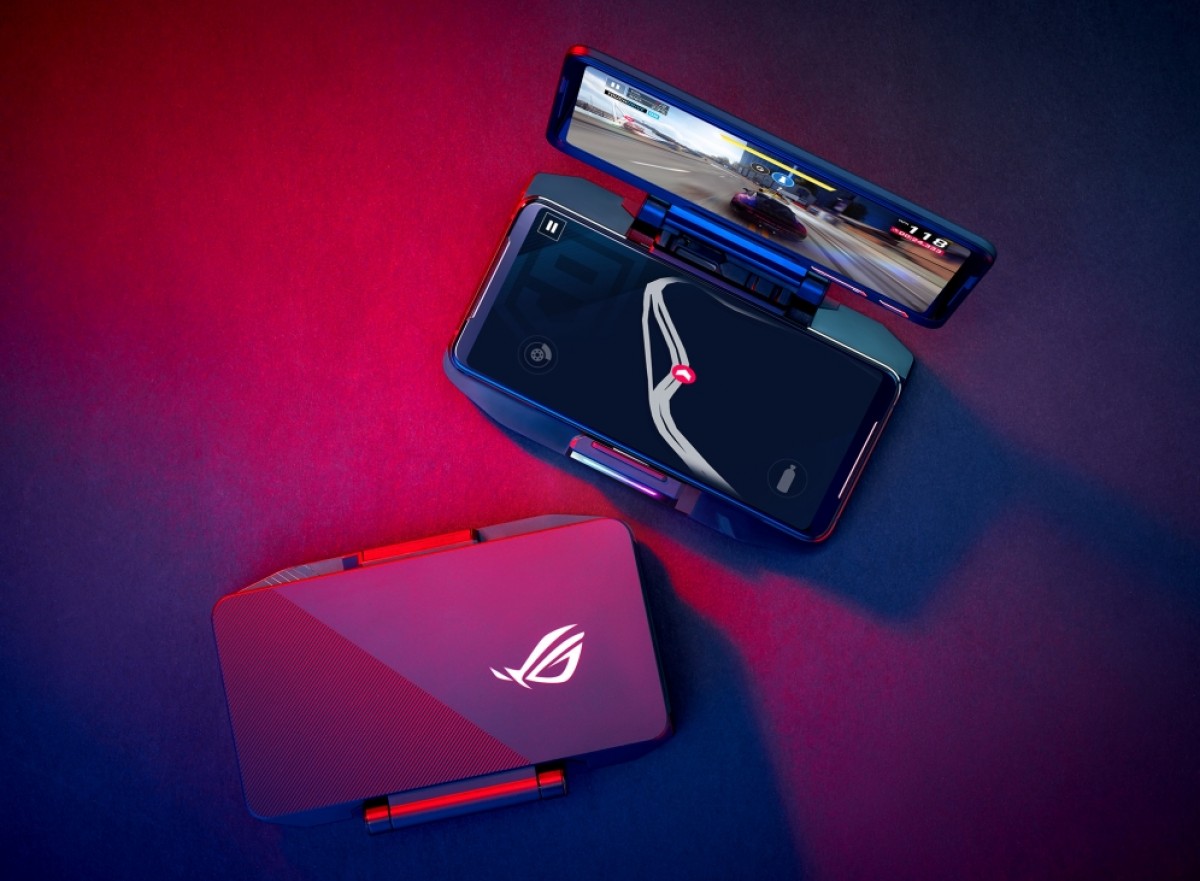 The new and more-open design already pioneered by the TwinView Dock II addressed pretty-much all of the issues of the original TwinView. This one exposes a lot more of the phone while docked, including its excellent AirTigger 3 ultrasonic touch sensors. While these are not like the physical triggers on the original TwinView, honestly, the feedback they provide, plus the added versatility of extra gestures, separate zones, pressure fine-tuning, make this the right move in our book. You can hit-up the ROG Phone 3 review for extra info on the AirTigger 3 tech.
The bottom half of the TwinView Dock 3 still packs quite a bit of hardware. The fan operates similarly to the AeroActive Cooler 3 and can be controlled by software in the same way. The built-in fan even sounds the same, emitting an audible but definitely not loud or distracting sound at full speed. The RGB logo on the back of the display also looks and behaves similarly.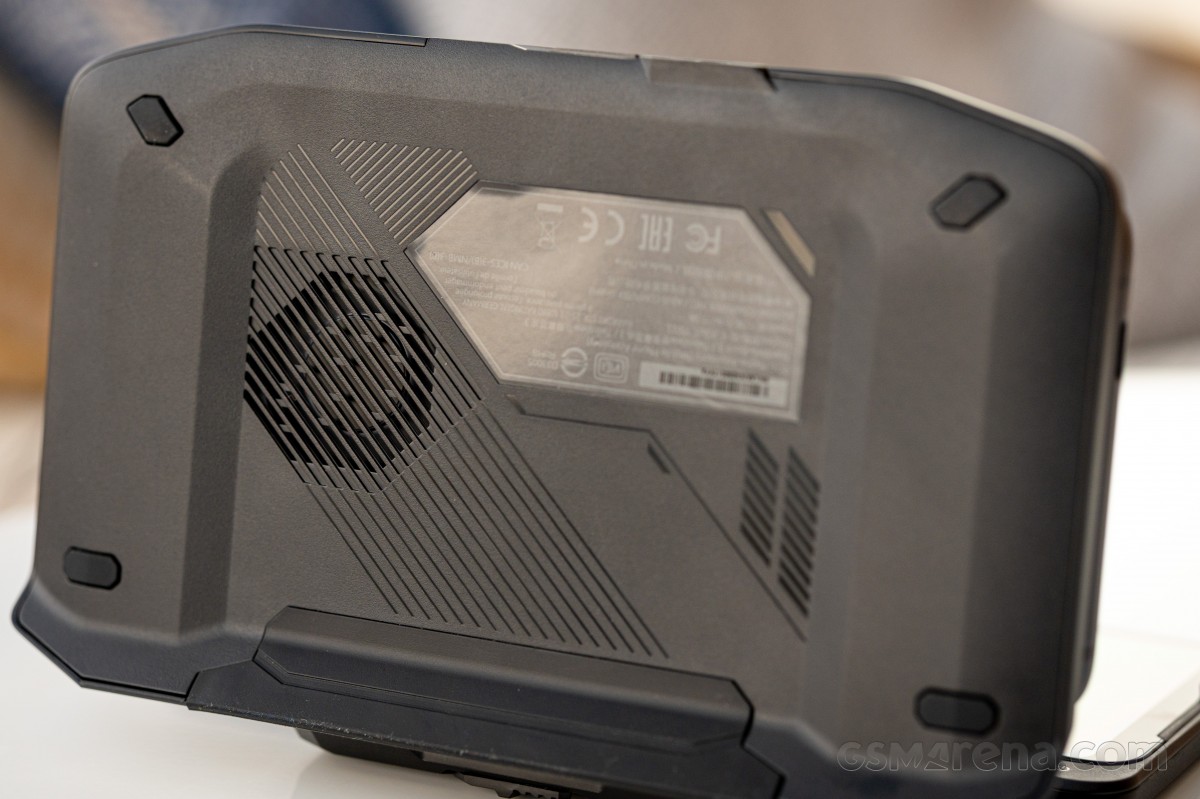 The TwinView Dock 3 comes with a 5,000 mAh battery of its own. When put alongside the 6,000 mAh already in the ROG Phone 3, you get an impressive total of 11,000 mAh of juice. Since our typical standard battery endurance test seemed not strictly-applicable in this case, we topped-off both batteries and decided how many hours of double-screen gaming we could squeeze out. Hardly a scientific test, but we managed a good 6 hours of playtime in Asphalt 9, which officially supports the two-display configuration.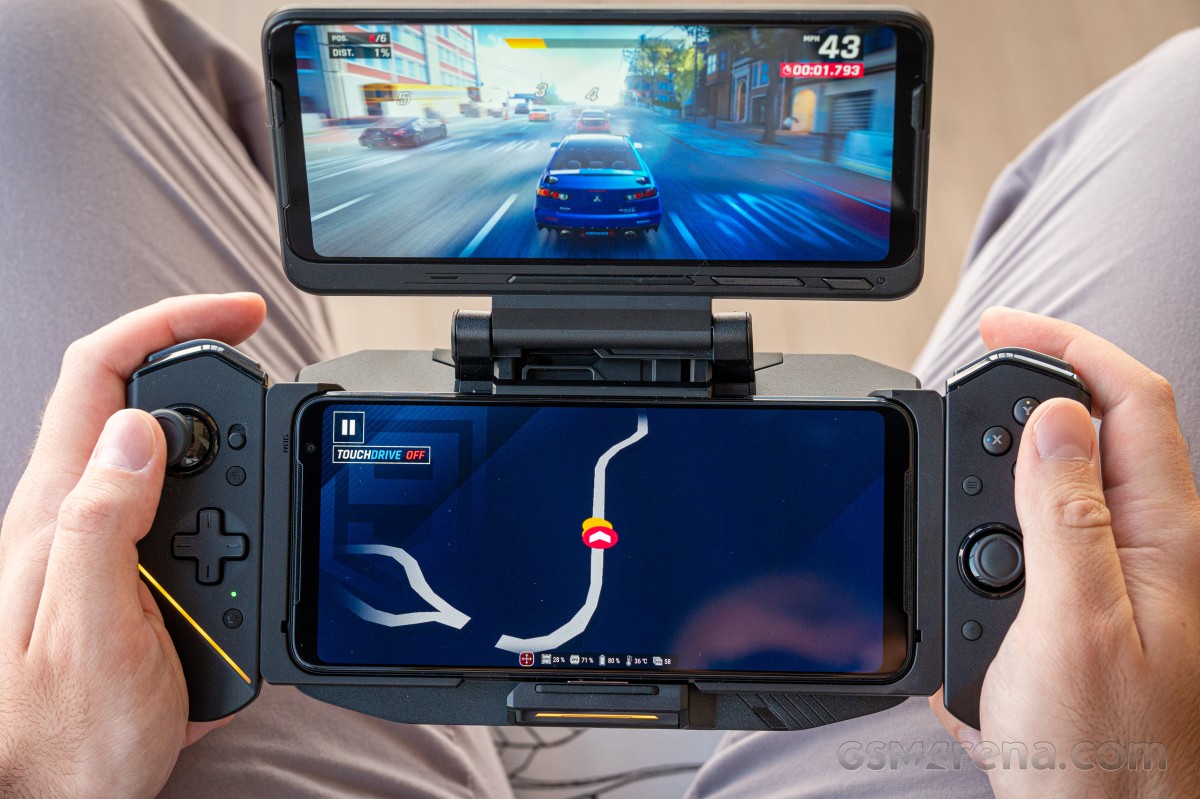 You can even choose in which order to use the available juice – either use the additional 5,000 mAh battery first and keep your phone fully-charged or discharge the pair in tandem.
The 30W factory charger for the ROG Phone 3 has enough overhead to actually power and charge the phone and the TwinView Dock 3 simultaneously.
Rounding off the hardware tour, the TwinView Dock 3 also has a Type-C port, conveniently positioned on the back of the device, which makes for nifty cable management for plugged-in gaming.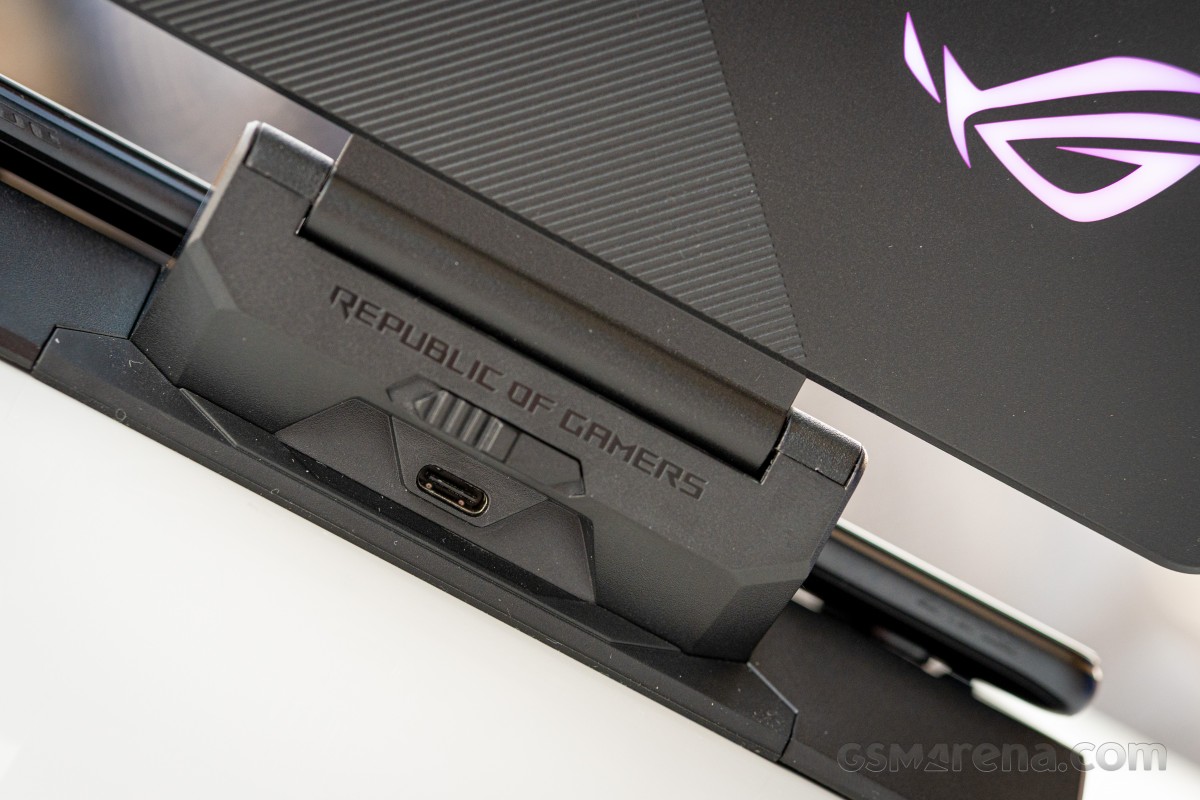 That slider right on top of it, by the way, is a lock-in mechanism that needs to be unlocked to put the phone in and then locked to start using the accessory. There is a fairly stiff spring-loaded mechanism, working in conjunction with the wide and stable 48-pin Side port connector, and it holds the phone into place. Still, locking is always appreciated for some extra peace of mind. Plus, doing so automatically powers on the experience.
Speaking of mysterious buttons, if you were wondering what those two on the bottom right bezel of the secondary TwinView Dock 3 display are – they simply duplicate the power button and volume rockers of the phone for easy access. As far as usability goes, Asus has made sure that everything makes sense and is convenient.
The final hardware bit on the TwinView Dock 3 is the 3.5mm audio jack. It is also positioned conveniently- front and center. Well, conveniently for headphones. Hooking up external sound might be a bit more awkward and would require an angled audio cable. But, we don't really see that as a common use case.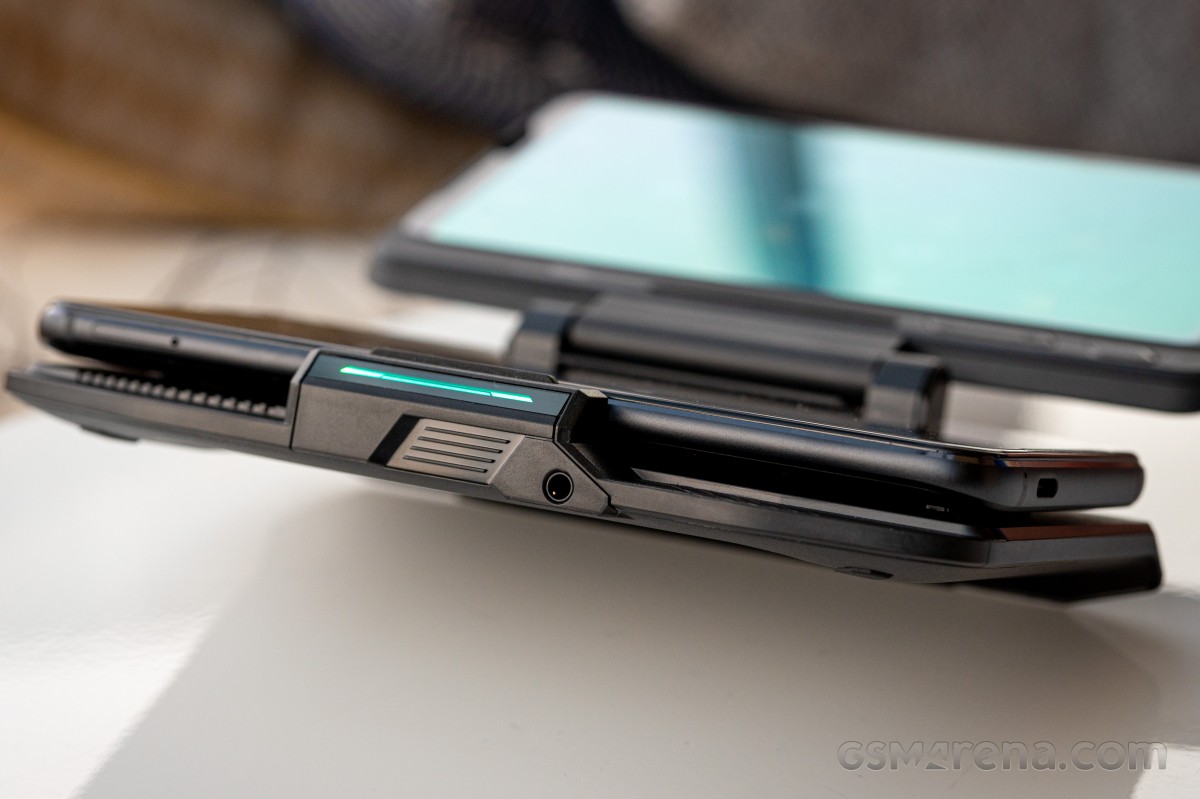 Finally, we can't fail to mention that Asus firmly believes in RGB equality! That little area on top of the bottom latch mechanism features a sort of RGB "strip" that mimics the rear ROG logo's behavior, so the user can also bask in the RGB goodness, just like bystanders. Joking aside, that's excellent attention to detail.
Using the TwinView Dock 3
Using the TwinView Dock 3 with compatible titles feels amazing. Two top-notch 144Hz OLED panels, on top of the already stellar and versatile ROG Phone 3's UX, are just a treat. There are no visual artifacts or anomalies to speak of. No tearing, stutters, lag, smearing. Nothing of the sort. Just a seamless experience.
Featured TwinView Dock games
Of course, therein lies the caveat. The TwinView Dock 3 requires game titles to be adapted specifically for the system. The hardware is glorious, no doubt about that. Asus has also done the best to set things up in what is likely the best possible way, given current Android realities and limitations. You basically get two independent environments, complete with their own app launcher, that can run two apps simultaneously. In most cases, the apps themselves won't even realize they are running in an odd configuration.
Second-screen gaming might still have a bright future ahead of it, but it will require the right kind of effort. Developers can already adjust their games to use the secondary display via APIs openly available in Unity. There are a growing number of actual experiences that can be had today.
A glance at the curated TwinView dock section in the Asus Armoury Crate app show 23 compatible titles, up from the original 3, which were present when we originally reviewed the ROG Phone 3 a few months ago.
Of course, your mileage will vary. We did run into some odd issues, like the fact that SHADOWGUN LEGENDS, which is on the list and did, indeed, previously support the TwinView dock, no longer works with it.
Curated third-party lists are clearly not going to cut it going forward. Google needs to step in and implement some controller/dual display and other special feature indication within the Play Store. It is a shame to see this ongoing struggle to adopt and make proper use of the hardware that is already existing and growing in popularity and market share. And it's not only Asus. LG, for instance, already has no less than 3 smartphones with a second screen, even if none is gaming-centered as Asus' proposition.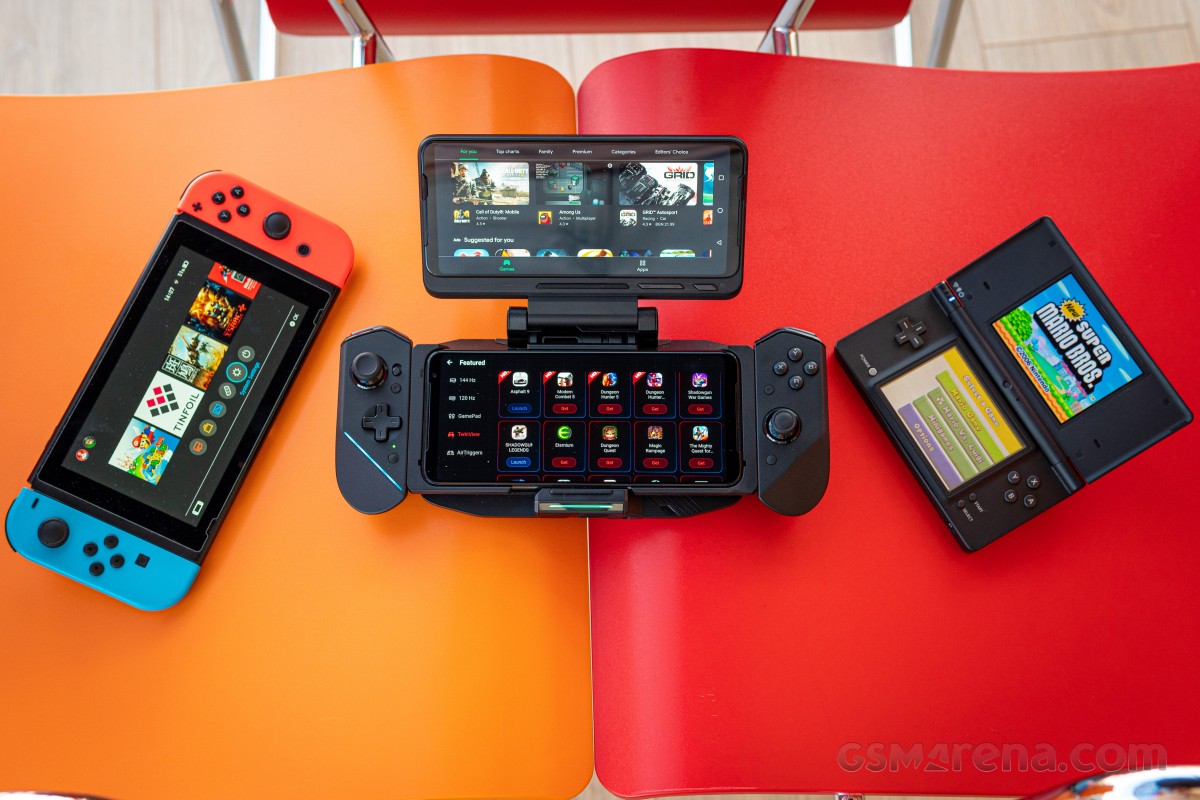 On the plus side, if you are willing to get creative, there is still a lot of value to be extracted from the TwinView Dock 3 beyond actual dual-display games. Streaming is undoubtedly a relevant part of modern gaming. If you do a lot of that, the TwinView Dock 3 is ideal for playing a game on the bottom display while keeping an eye on the chat on the top one. Or, while we are not endorsing this in any way – a competitor's stream.
You know what's a lot more fun than stream-sniping, though? Emulators! We found some of these to be a lot more enjoyable with the TwinView Dock 3. Ideally, we would love to see something like a Nintendo 3D or 3DS span across both displays for an ultimate experience. Sadly, that's not a reality yet. However, certain older DOS games that require a keyboard to play are great since you can have one on the bottom display and the game on the top one. A niche use case, if we've ever seen one, but a valid one.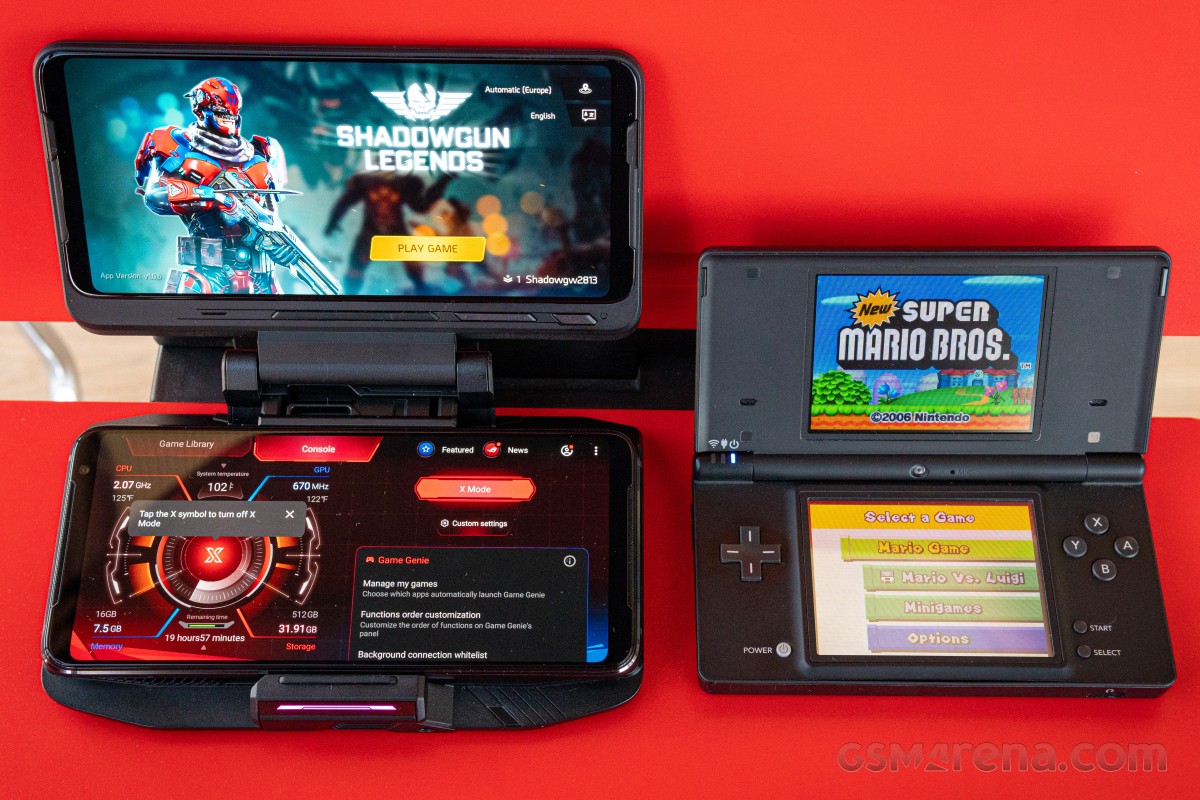 We also found many of the more challenging point-and-click Quest games of old (like those from Lucas Arts) more straightforward to play with a note-taking app on the top display. And failing that, you could always bring-up an actual video walkthrough on YouTube.
Circling back to the hardware one last time, we have to say that the TwinView Dock 3 is surprisingly comfortable to hold and use. Now, with a weight of 300 grams and measuring 173.2 x 111.6 x 29.2mm, with the 240-gram, 171 x 78 x 9.9 mm ROG Phone 3 inside it, we definitely wouldn't call it a pocketable or easy to carry around. Still, it is better than you expect.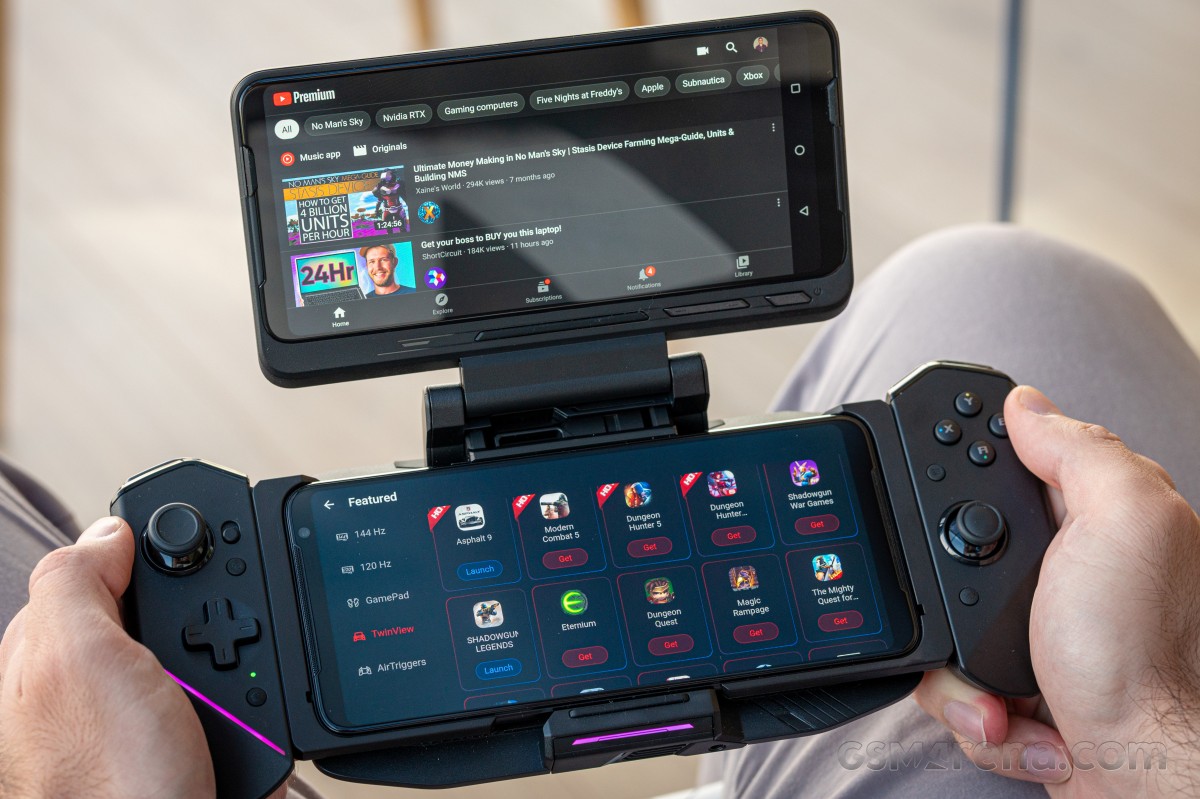 Things start to get really, really excessive if you decide to also snap the Kunai 3 Game controller on the phone, as well. That is an official configuration supported by Asus and facilitated by things like the Type-C and 3.5mm ports on the TwinView Dock 3. They suddenly become a lot more useful with the Kunai 3 Game controller on top of the TwinView Dock 3.
With everything tacked-on, you end up with a beast of a setup, tipping the scale at 740 grams. Ridiculous, we know. That's more than double the weight of an original Nintendo Switch. Oddly enough, though, it still remains somehow manageable. As far as the usability of that "final-stage boss" setup, you can read on for our Kunai 3 Gamepad experience first.